Air-cooled chiller,Air Cooling Chilling Equipment,Air Cooling Chiller Machine,Air Chiller Unit,Air Cooled Chiller Refrigeration,Air Cooled Chiller Refrigeration Equipment is slightly higher than the water-cooled chiller, but the annual operating cost is lower than the water-cooled chiller. The construction cost of the machine room is the least among various air-conditioning cold and heat source systems. Or half the cost of the boiler.
Air-cooled chillers Advantage
1. Configuration
According to the compressor, the air-cooled chiller has an air-cooled scroll chiller and an air-cooled Screw Chiller; according to the temperature, there are also air-cooled low-temperature chillers.
The air-cooled scroll chiller is mainly composed of scroll compressor, evaporator, condenser, freezing element, circulating Water Pump, stainless steel water tank, original imported fan and electric control system.
The air-cooled screw chiller is composed of screw compressor, evaporator, condenser, freezing element, original imported fan and electric control system.
2. Protection device
Air-cooled chillers use too long, or improper operation will cause the unit to malfunction. In order to ensure the safe and stable operation of the chiller, the unit itself is equipped with multiple protection devices, such as phase loss / reverse phase protection devices, compressor overload protection , High / low pressure protection device, water shortage automatic alarm device, low temperature / anti-icing protection device, etc.
3. Temperature control of air-cooled chiller
Both air-cooled box chillers and air-cooled screw chillers can meet the refrigeration temperature required by various industries. The temperature range: 35 ℃ ~ -45 ℃.
4. Energy saving and environmental protection
The air compressor automatically stops and starts working at the set temperature to save electrical energy. For chillers with multiple compressors (especially air-cooled screw chillers), each compressor has an independent refrigeration system, and users can use the number of compressors that they want to turn on for more flexible and convenient use.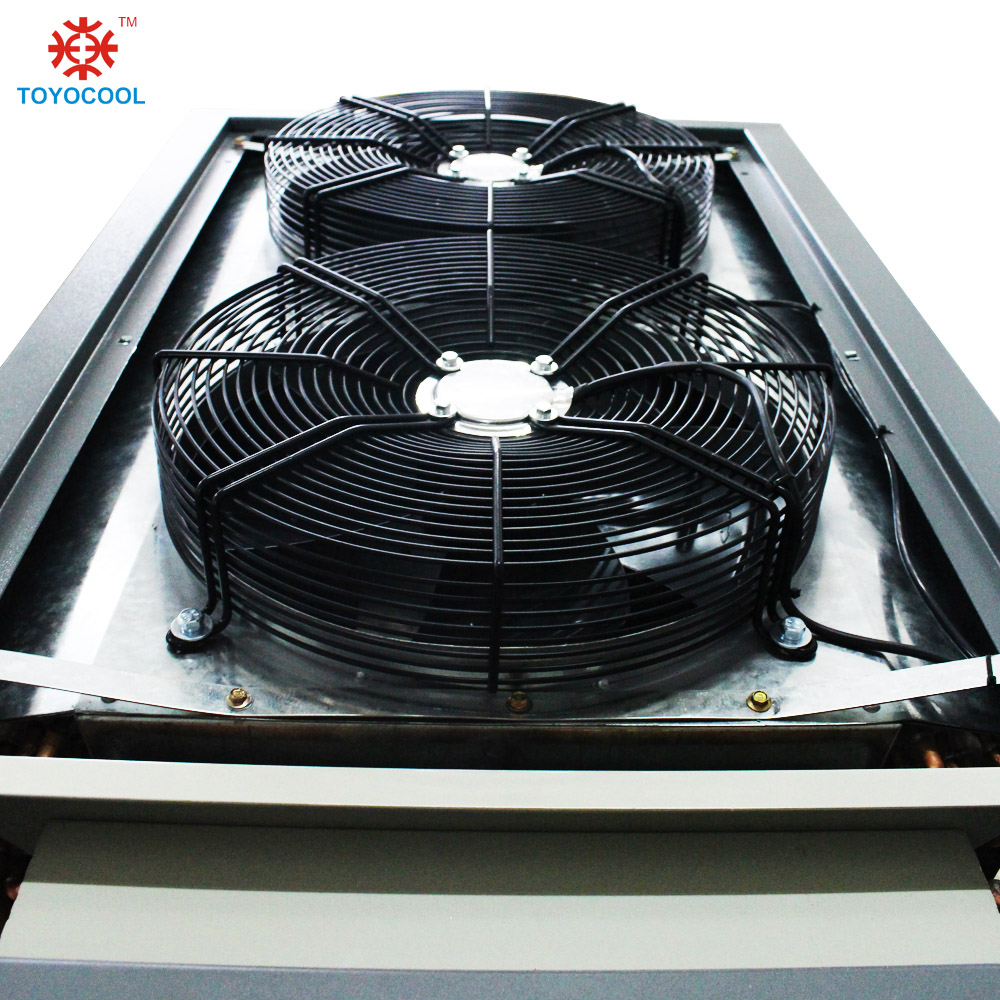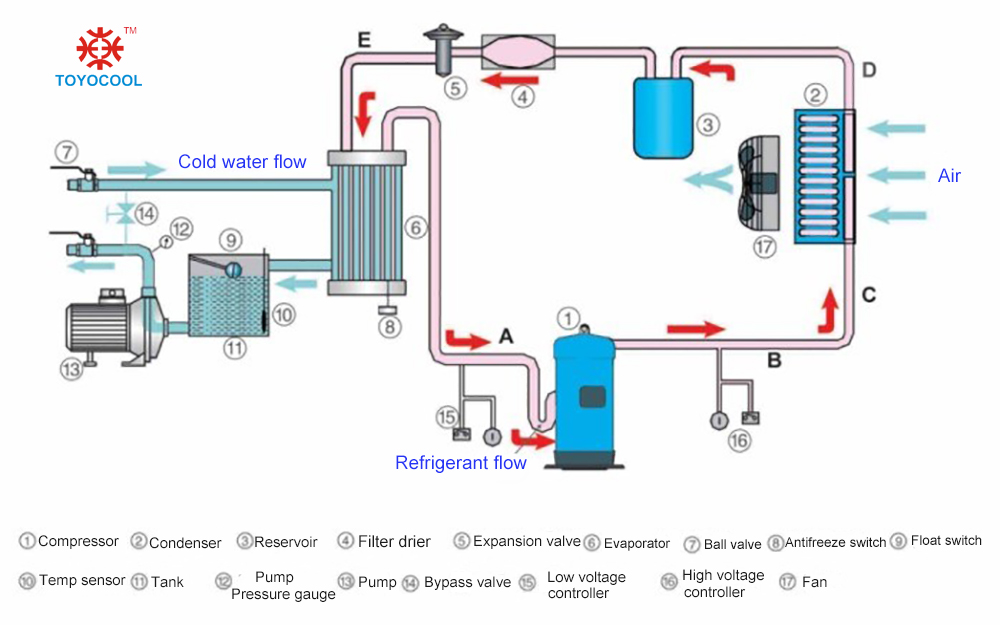 Company Overview
Shenzhen Toyocool Refrigeration Equipment Co., Ltd. was established in 1993 and has 27 years of experience in supplying high-quality products (formerly known as "Shenzhen Toyo Industrial Refrigeration Machinery Equipment Factory"). Refrigeration enterprises, R & D, production and technical services of professional refrigeration equipment, the main products include: screw chiller, air-cooled chiller, water-cooled chiller, low-temperature refrigerator, integrated cooling and heating machine, water-cooled central air-conditioning, cold storage, etc. Widely used in electronics, chemical, food, medicine, new energy and other industries, with a series of hundreds of specifications, solutions can be customized according to customer needs.
The company has a professional R & D team and technical personnel, using advanced foreign production equipment and quality inspection equipment, core components from Europe and the United States, adhere to the German manufacturing philosophy and management model. It has always maintained the leading position in China's refrigeration equipment industry. It has passed ISO9001 and CE certifications. It was listed on the Shanghai Stock Exchange in 2015. In 2018, it passed the Shenzhen high-tech enterprise and national high-tech enterprise certification. Toyocool Refrigeration has always been committed to solving cooling, refrigeration, temperature control and other needs for modern manufacturing, and continuously promoting the development of a better living environment.