Features of water-cooled screw unit: 1. Water-cooled chiller adopts horizontal shell and tube condenser and shell and tube evaporator, which has the characteristics of simple structure, stable heat exchange and convenient maintenance. It has been recognized as the most Central Air Conditioning host Ideal structural composition.
2. The unit control system adopts imported PLC program controller, the human-machine interface is equipped with a large screen touch screen, the interface is simple and generous, and the operation is intuitive and convenient.
3. The unit has a reliable safety protection device, including: high and low pressure protector, exhaust overheat protector, compressor motor overheat protector, overload current protector, antifreeze temperature protector, water flow protector, emergency stop switch, temperature sensing Type fusible plug, safety valve, etc.
Long life industrial Water Cooled Screw Chiller
1. Purpose
Water-cooled screw chillers are widely used in industrial environments, industrial plant cooling, chemical equipment, breeding, reaction kettles, fermentation tanks, hospitals, refrigeration and other industrial refrigeration projects of various sizes and industries. KDS screw chillers are our company 's Years of experience in designing and producing water chillers, combined with the latest technological development and dedicated research, design and development of water chillers. This product keeps pace with the development trend of the times, adhering to the design concept of "high efficiency, reliability, energy saving and environmental protection", and providing users with an excellent freezing equipment.
2. Features
The water-cooled screw chiller adopts internationally renowned brand screw compressors, and is equipped with high-quality and high-efficiency copper tubes to make condensers, evaporators and world-famous brand control elements. , Its beautiful and exquisite shape design and reliable and stable high-performance quality are outstanding among similar products!
Compressor features:
² The compressor uses an international brand, a new type of high-efficiency screw rotor compressor, which is 20% -30% higher than the general compressor, and has obtained European and American patents and ISO9001 international quality certification.
² High efficiency control 5: 6 patented asymmetric rotor tooth profile.
² Capacity control can adopt four-stage (100% -75% -50% -25%) or three-stage (100-66% -33%) and stepless control systems.
² High-efficiency silicon steel and special groove design, and equipped with internal and external omnidirectional design cooling flow channels, so that the compressor motor can exert the highest efficiency under any load.
² Unique built-in oil pressure system, no oil pump is needed to ensure that the compressor maintains the best lubrication effect.
² The oil separator adopts double-layer filtering method, which has good oil filtering effect, and the Heat Exchanger can exert its maximum capacity.
² High efficiency, low noise and low vibration.
² The system is equipped with functions such as motor overload, short circuit protection, overheating, high pressure, low pressure, compressor delayed start protection, water flow protection, etc. The unit operates safely and reliably.
3. Working principle
The main components of the unit are: compressor, condenser, filter drier, gas-liquid separator, expansion valve, evaporator, and control instruments and control elements.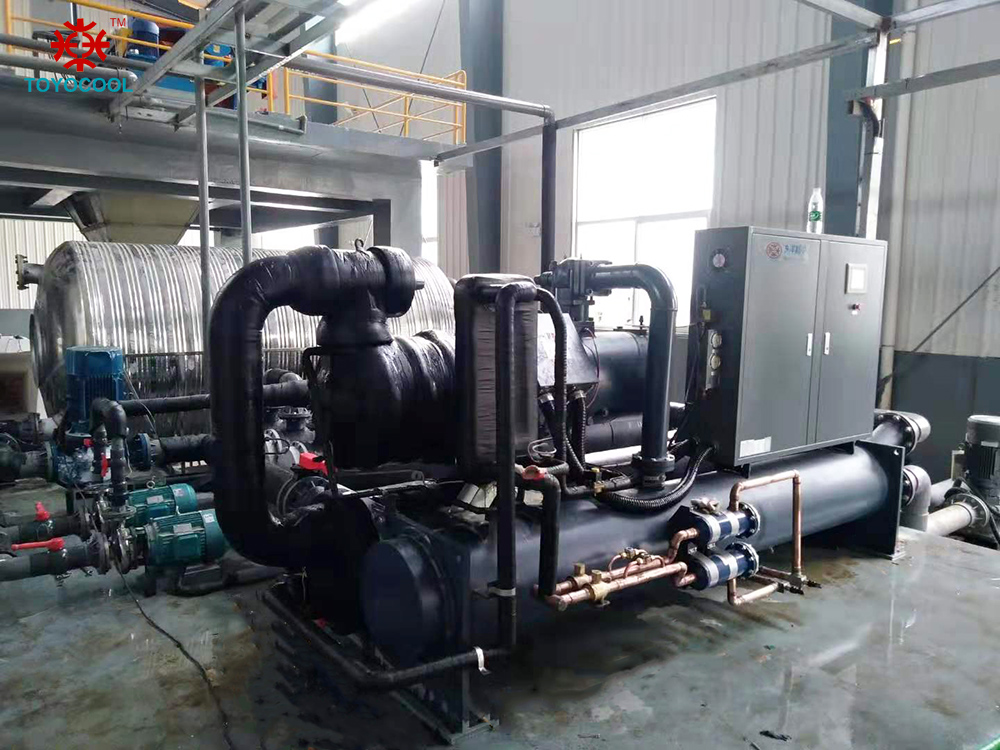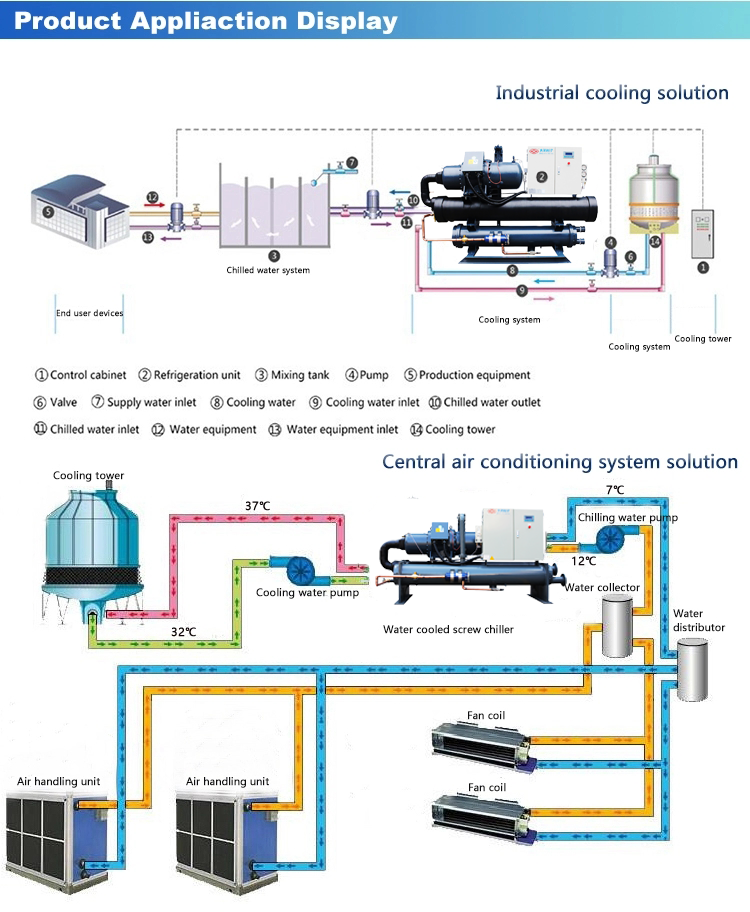 Looking for ideal Industrial
Water Cooled Chiller
Screw Chiller Manufacturer & supplier ? We have a wide selection at great prices to help you get creative. All the
Industrial Water Chiller
Screw Cooled Chiller are quality guaranteed. We are China Origin Factory of Screw Water Cooled Chiller Machine. If you have any question, please feel free to contact us.